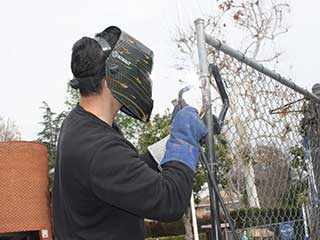 Automatic gates make life more convenient, but when they break down they can be a major pain, and hamper your daily schedule as well as property security. Our team specializes in all aspect of gate repair, and you can count on our professionals to find and fix the problem no matter what it is that you're dealing with.
All Sorts Of Issues
Mechanical problems like rust, warping, or damage, are usually the easiest to diagnose, though sometimes only after some poking around. Most rust and minor damage can be repaired on the spot, while more severe breakages might require some replacement parts. If your gate is experiencing electrical issues, we'll locate the faulty wire, worn opener or unresponsive sensors. Then, our expert team will do what needs to be done to get your gate working smoothly again.
Testing And Adjustment
Sometimes, big problems can be caused by minor system flaws. A misaligned sensor or a faulty intercom can cause your gate to become wildly unpredictable. The exact nature of the problem can require some repeat testing and adjustments to diagnose and repair. Fortunately, our decade of experience in the field has given us a chance to get acquainted with all sorts of automatic and 'smart' gates.
Replacement Parts Available
Some repair operations will require one or more components of your gate or its opening system to be replaced. We carry parts from a variety of manufacturers, and can install them for you at a reasonable price. Our technicians will run you through the options and help you pick out the model that best fits your needs and budget.
Get In Touch
No need to wait! Getting your automatic gate working again is the most important thing. Our professionals in La Mirada are on hand seven days a week and also provide same day services for when it's an emergency. Give us a call and tell us what we can do for you today!
In addition, count on us for:

Driveway Gate Service

Parking Garage Gates

Gate Remote Program

Phone Entry Systems