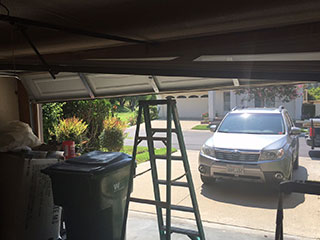 Problems with your automatic garage door are annoying, that's for sure, but did you know they can be dangerous too? This complex mechanism operates by utilizing tension-based force, which means mishandling its different parts can result in serious injuries. Rather than trying to repair a problem yourself and risk getting hurt, let our professional technicians make sure the malfunction is fixed without jeopardizing anyone's safety in the process. We provide same day repair services that cover every type of issue your door system may experience.
Common Opener Problems
The motor unit that controls the movement of your door uses both electrical and mechanical components to function. That means it can experience a diverse range of issues, and it can sometimes be difficult to determine exactly what's wrong. Opener troubleshooting is no easy task, and there are a lot of potential culprits that may cause similar issues. A door may start to reverse because the safety sensors are misaligned, but it can also react similarly to problems with its circuit board or worn wiring. The motor and the drive system can also malfunction in numerous ways, and repairing the affected parts requires technical skills and experience. Worry not, though. Our technicians have exactly that, and we'll be happy to assist you any way we can.
Springs Need Replacing
The parts that do most of the heavy lifting are actually the springs, and not the opener, as many would believe. These units have to counterbalance the weight of the panels, which means they have to be able to withstand a lot of stress on a regular basis. It's no wonder they end up breaking eventually. Garage door spring repair can be not just complex, but very dangerous too, and even trying to adjust these components carries with it tremendous risks. That's why it would be a good idea to leave this type of task to our experts and save yourself the hassle and the risks.
Door Got Stuck
A lot of times, the problem will involve some other hardware parts, like the rollers or the tracks. These parts help the panels move without shaking or jittering, and if their condition becomes subpar, they'll fail to fulfill their purpose optimally. A door could get off track and end up stuck halfway open, which will put more strain on the rest of its parts, so getting bent sections repaired quickly is of vital importance.
Need Some Help?
Found yourself dealing with a problem? Then give our team at Garage Door Repair La Mirada a call and let our experts handle it for you. We'll make sure the issue is resolved quickly and that our work remains reliable for a very long time.
Count on our team for:

Garage Door Off Track Repair

Garage Door Safety Inspections

Screw Drive Opener Replacement

Galvanized Torsion Spring Installation