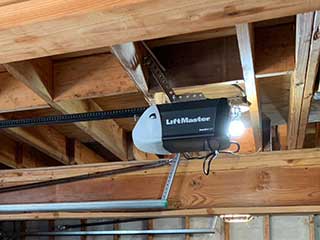 The automatic opener can be the cause of many common garage door problems. A door that moves slowly, starts reversing suddenly, or doesn't always work, is often the result of some problem with the motor unit. This device can develop a wide range of problems, from faulty circuit board to worn-out gears, so it's essential to have our experienced technicians take a look at your unit if it's failing to work properly.
Professional Opener Repair
Regardless of which part of the motor unit is at fault, our team will be able to help you. Safety sensors can become misaligned and even parts of the drive system, like the carriage trolley, can break all of a sudden and prevent you from using your door automatically.
Installing a New Unit
One of the best ways to upgrade your garage door system is by investing in a new opener. Modern units offer a wide range of benefits including faster, quieter operation and a whole host of smart features that can make using your garage door a lot more convenient, as well as improve the security aspect of your home.
Finding The Right Unit For You
There are dozens of different types of opener models available on the market, and few homeowners know exactly what they're looking for. Our technicians have years of experience, and we'll happily provide you with all the in-depth knowledge you need to choose the perfect new opener for your home. We work with the best manufacturers in the business, so whether you decide on a LiftMaster chain drive unit, a Genie belt drive opener, or a model from any other leading brand, we'll be able to provide it.
Get In Touch With Our Team
Don't just put up with an opener that doesn't work. Contact Garage Door Repair La Mirada today and let our experts make sure the problems affecting it are solved. If you'd like to have a new modern model installed, we'll be happy to assist you with that as well.
Our team can also take care of:

Fix Garage Door Track

Extension Spring Adjustment

Garage Door Remote Clickers

Garage Door Tune Up Services