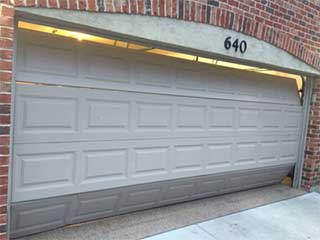 An automatic garage door can add a great deal of convenience to your daily routine, but such a large mechanism is bound to incur some issues over time. While there are many things that can go wrong with your garage door, in this article we look at the most common issues you may face and how you can recognize something is wrong before the problem worsens.
Watch Out For Spring Malfunctions
Broken or worn garage door springs are probably one of the worst things you can face. When these units break they can be downright dangerous due to them being wound so tightly. The first sign of spring related trouble is usually strange squeaking noises coming from your door when it is in motion. This could be something a little lubrication will solve, but it could be a bigger problem too. If you see any noticeable deformations on the coils of your springs, you need to have our experts take a look ASAP.
Misaligned and Bent Tracks
Over time, your garage door tracks may start to develop some bending and their alignment may also be affected. As time passes, the door will become more and more difficult to open and close and a result. If you notice your tracks are no longer positioned correctly, or if you find the rollers are grinding against them every time they move, it may be time to call in our professionals and to have the hardware parts inspected, repaired or replaced.
An Unusually Noisy Door
A noisy garage door is a sure sign that something needs urgent attention. It doesn't necessarily mean anything is seriously wrong. It could just mean the moving metal parts need a little lubrication maintenance. The rollers, hinges and springs should be serviced this way. Once you do that, you should notice a decline in the amount of noises you hear. The other thing to watch out for is blockages in the tracks. It could be a case of leaves, twigs or other tiny debris that have somehow gotten stuck inside and may be impeding the movement of the rollers and causing them to grind against the tracks, which in turn will gradually result in bending or even misalignment eventually.
To be certain the mechanism is in the best shape that it can be, give our team at Garage Door Repair La Mirada a call.