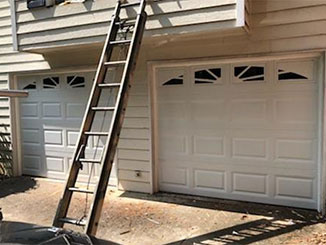 Some problems require emergency solutions and are impossible to avoid. However, when it comes to automatic garage door systems, a great deal of malfunctions can be prevented or at the very least delayed by making sure the mechanism receives proper maintenance.
Problems With The Springs
Out of all the different parts involved in the system's operation, the springs are without a doubt among the most important ones. They are under constant stress, and will end up breaking eventually. However, their longevity can be extended significantly if you make sure they are regularly serviced. Our technicians will lubricate their coils to promote a more silent and smooth performance which will help these units work with less wear and tear. Spring adjustment is another key aspect of our maintenance service, as it helps to ensure the door's opening stays balanced and that these components aren't overstraining needlessly.
The Safety Mechanisms
It's very important to make sure your garage door is safe for you and your family to use. We do this by testing the opener's safety features, which are in charge of reversing the door's movement when it comes into contact – or is about to come into contact – with an obstacle. We'll make sure the safety sensors are in complete alignment with each other, and we'll also test the auto-reverse mechanism to ensure the force limit setting is set correctly. Of course, if some part fails our test, we'll adjust or replace it as needed.
Reducing Noise and Stress
Your door uses all sorts of moving metal parts in order to be able to move, and these components need to be lubricated from time to time to reduce the friction which causes them to wear out more quickly. Lubrication maintenance is a key part of our service appointments, and we'll make sure everything from the rollers to the hinges and the springs is able to function smoothly and silently.
Avoid Many Problems
Instead of just dealing with issues when they occur and sacrificing time and money out of your day to do so, let our experts at Garage Door Repair La Mirada make sure you experience as few problems as possible. Call us today to schedule a maintenance appointment.
Give our team a call if you need help with:

Garage Door Receiver Repair

Oil Tempered Torsion Springs

Belt Drive Garage Door Openers

LiftMaster Chain Drive Lubrication