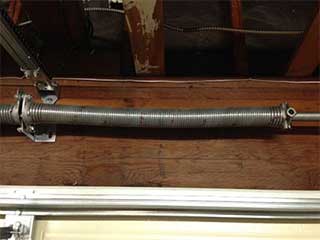 Difficulties opening your door are more than likely related to some problem with the springs. These components are in charge of proving the counterbalance that helps you and your opener move the weight of the door panels, so if something is hindering their performance, it will have a direct effect on the behavior of your door.
Tension Related Problems
If your door seems to drop down fast when you try to close it, or seems to barely be able to open all the way, then there's probably something wrong with the tension of the springs. As part of our garage door maintenance service, we perform balance tests on your door to determine whether spring adjustment is necessary. This type of task can be very dangerous, so you should avoid attempting to perform it yourself and instead leave it to our technicians. We will also lubricate these units to ensure their performance remains as smooth and silent as possible.
Spring Repair Experts
Regular maintenance can increase the longevity of these units by a significant margin, however, eventually they will break, at which point it will probably be impossible to use your door. That is, until the broken springs are replaced. Whether you have torsion or extension units, replacing them can be dangerous, so you're far better off letting professionals take care of this.
Any Service You May Need
There's no need for you to put yourself at risk. While there are some maintenance tasks that you can conduct yourself, if a problem involves the garage door springs, it's highly advised that you leave it up to experts like our professional technicians. Regardless of how complex the problem may seem, you can count on our team to handle it safely and quickly. Call Garage Door Repair La Mirada today and let us help you make sure your door returns to a fully functional state.
Let our team take care of it for you!

Panel Repair

Torsion Spring Adjustment

Opener Sensor Replacement

Part Replacement & Lubrication